Saving a life, it's #ok2ask, even via text message. A free online course could make the difference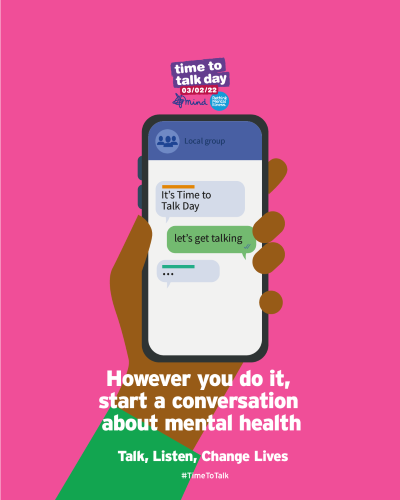 in saving someone's life and encourages people that it's #ok2ask.
The Zero Suicide Alliance 20 minute online course guides people how to have the vital conversation about whether someone is having suicidal thoughts and the next steps if they need help. The scheme is free as part of #ok2ask, a suicide prevention partnership launched by St Helens Borough Council, which encourages people to feel confident talking about suicide and to remove any stigma around the subject of mental health, while providing advice and support on where to get help.
Frankie works for a local charity in St Helens – promoting healthy living activities and support services. Over the Christmas period, she was given the opportunity to save someone's life via text message. Here's her story:
"I'd received a text message from a man reaching out about support services in the local area. We hold brew and chat sessions and he wanted to know about them. I encouraged him to attend, and thought nothing more of it.
I received another text from the same guy, asking, "but what if I go for the brew and chat, but don't want to chat?"
I instantly felt in my gut this man was reaching out for help because his problems were so big he didn't feel comfortable talking about them.
I'd taken some free training online, which was all about preventing suicides. I think the training is what had given me the confidence to dig a little further.
Over Christmas, we built up a text conversation back and forth. I'd simply just 'check in' – ask how he was doing, what he was getting up to and send him details of our chat and brew sessions. I wanted to let him know he was not alone, and there were people available to help him talk through his problems.
He was always very apologetic to me, saying, "I'm sorry for bothering you – you don't have to waste your time on me" and I always reassured him he wasn't. I felt like he had low self-esteem, and I wanted to help him. He started to open up to me over text messages about his problems and said that he was battling a chronic illness, and that he'd recently split up from his wife of 15 years.
It was via these texts that I recognised triggers I had learnt in the training – for instance, he was isolated because he was reaching out to me, someone he'd never met and he was suffering from a long term illness. He'd also just ended a relationship, a major change of life event and he also had low self-esteem, because he always thought he wasn't worth any help.
There was an image floating around on Facebook at the time, which gave a list of lifelines saying it was OK2ASK for help over Christmas. I text him the picture with the numbers listed on including Samaritans, bereavement support, text services – just so he knew he wasn't alone.
It had been a week or so, and I hadn't heard from him, my gut was telling me that something just wasn't right. I knew there was a possibility that he felt suicidal, but I still felt worried about asking him, because we'd never met, and I didn't really know him, and I didn't want to offend him.
So I text him, just saying, "Are you ok?" and he responded saying, "I'm not very good at the moment"
It was at this point, that I just thought I needed to be direct, I need to ask him about whether he is experiencing suicidal thoughts, so I sent a message which read: "Have you been thinking about ending your own life?" He replied, "Yes, there's no point of being here anymore."
If I'm being totally honest, I initially felt worried and scared. It's the first time I had intervened, and I felt a bit shocked. What should I do next? I didn't know his address. I wasn't shocked because of what he had said, I was worried about what to do next!
I took a few deep breaths, and then remembered the free training I had done online. I text him back, and reassured him that it was ok that he was feeling the way he was feeling, and I asked him whether he was in danger right now. He replied and said he wasn't right now. So I reminded him of positives, and to take one step at a time. I encouraged him to go out somewhere public, even just being around people without interacting can help us to not feel alone.
I then got him to promise me, that he wouldn't act on his thoughts, until he had spoken to a professional. He promised he wouldn't. I text him and said I would get a professional to reach out to him.
I contacted Samaritans, and gave them his telephone number. I also asked one of my male colleagues to reach out to him about the chat and brew sessions and encourage him to attend – as I wanted to break him out of a negative routine, and I know from personal experience that community and networks can help break the cycle of depression.
At this point, it was out of my hands, but I felt like I had done all I could to help this man, at a time when he needed it most, just by texting and being there.
If I had any advice for someone worried about another person, I'd say just listening and being there for someone, can make a huge difference. Trust your gut and be brave. I work in health and support services, and even I still felt nervous about asking him if he felt suicidal.
But you know, it really doesn't matter how you word it, "Are you thinking about taking your life?" "Are you feeling suicidal?" – as long as you word it in a way which is clear and understandable and it's ok to feel uncomfortable with the situation yourself, especially if you haven't been in it before. You never know yourself how you will feel and that's ok. You can still feel nervous and take action. Being brave can save lives – a text, asking Samaritans to reach out, and taking the Zero Suicide Alliance Training all helps in feeling more confident in how we can help others."

Visit the Zero Suicide Alliance website to take the FREE 20 minute training.
Visit the 'Need help?' page for information about support services.